2015
The Flag was lowered November 16, 2015
The flag was lowered November 16, 2015 for repairs and winter storage, Committee members Mike Kuhn, Dave Koontz, Lisa Azzarella and Stew Saylor enjoyed perfect weather to lower the flag. Look for it to return during May 2016.
New Flag raised August 28, 2015
The Committee's first nylon flag was raised today. With the help of the Somerset Volunteer Fire Department and Committee members a polyester flag was lowered for repairs. Tell us what you think of the new flag.
Flag Day June 14, 2015 Ramp Ribbon Cutting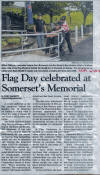 PRESS RELEASE JUNE 9, 2015
The Somerset County Flag Committee would like to invite the public to a special ceremony in celebration of Flag Day and in honor of our local veterans.

On Sunday, June 14, the Flag Committee will host a ribbon cutting to formally open a ramp constructed to allow those with physical disabilities or challenges to fully access the flag site.





The ceremony will begin with some selections by the Somerset County Community Band at approximately 1:45pm.

Some elected officials will provide comments, followed by the ribbon cutting.





All are invited to this recognition of our country's most recognizable symbol, and a celebration of the community spirit that continues to make the flag site a source of pride for all the residents of Somerset County.



Ronald Horner, President
Somerset County Flag Committee
Handicap Ramp Construction
| | | |
| --- | --- | --- |
| Before pictures: | | |
Day One - April 13, 2015
Day Two - April 14, 2015
Day Three - April 15, 2015
Day Four - April 16, 2015
Day Five - April 17, 2015
Day Six - April 23, 2015
Day Seven - April 24, 2015
Day Eight - April 28, 2015
Day Nine - April 29, 2015
Day Ten - May 1, 2015
Day Eleven - May 4, 2015
Day Twelve - May 5, 2015
Day Thirteen - May 6, 2015
Day Fourteen - June 9, 2015
Day Fifteen - June 10, 2015
May 21, 2015 Our Big Flag was raised for the season
The flag was raised with the help of Greg Davis, Larry Patton and Cody Martz. They made it look easy. THANKS!
Community Service - Site Cleanup, May 7 and 8, 20215
With mulch provided by Steve Matse, the John Adams family stread mulch at the site. The Community Service team finished the job May 28, 2015
New Paving Stones
Donations were received last year for the engraving of three paving stones. The work was compleded April 15, 2015 by Shetler Memorial's master craftsman Angelo Adolph. Additional pictures will be posted later of the work effort. Very interesting. The stones look great. Our thanks for the support.
February 17th the Committee was awarded one of the County's Tourism grants.
The grant will be used to purchase a new 30 foot by 60 foot flag.
Highlights
February 17 Tourism grant for a new flag
April 13 Handicap ramp construction begins
April 15 Three paving stones engraved
May 7-8 Community Service site cleanup
May 21 Flag raised
June 10 Ramp construction completed
June 14 Ribbon Flag lowered