2014
October 9, 2014
The flag was lowered October 9, 2014 for the year.

David Koontz, Josh Halagan and Stew Saylor lowered the flag for repairs.
A long tear developed in the seam between the top red and white stripes.
The flag was sent out for repairs the next day and will be available for use again next year.

September 4 - 5, 2014
The flag site was visited the mornings of Sept 4th and 5th by
a team from the Somerset County Community Service Program.
Clean up work at the site performed.

Our sincere thanks to the team for a job well done!

July 16, 2014
The Committee raised a repaired flag on Wednesday July 16, 2014

Committee members Martin Palguta, Mike Kuhn, David Koontz and Stew Saylor,
with the assistance of Patrick Kuhn and Peggy Saylor,
provided just enough manpower to raise a 80+ pound cotton flag.
July 12, 2014
The Committee lowered the flag for repairs on Saturday July 12, 2014

We have another flag ready and plan to raise it July 16 at 6:00PM, weather permitting.
Having enough manpower to raise the flag and the possibility of high winds caused the delay.
May 24, 2014
The Committee raised the flag for the summer on Saturday, May 24, 2014 at 1:00PM


THANKS!
THANKS!
THANKS!
With the help of Veterans, Jaycees, Rotary, Boy Scouts and SAR, Old Glory was raised in honor of our Veterans.
The flag raised was one of our flags damaged in last year's winds. Repairs were made by the skilled workers at Abilene Boot Company. She received her first stress test in Saturday afternoon's winds.
Quality Inn Master Painter, Donald Grenn, applied a new coat of paint to our barriers Saturday.
A "Quality" improvement.
March 19, 2014
The Committee presented Jay and Sue Canson with a plaque March 19, 2014 in recognition of their extraordinary support of the Committee.
Jay and Sue will be moving to the Seattle, Washington area soon.
Our thanks and best wishes will follow them.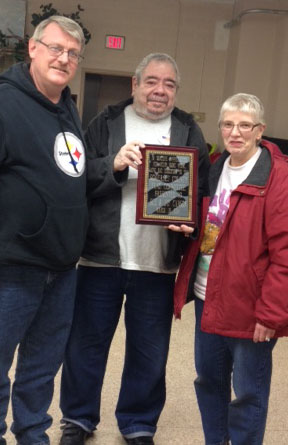 Director Mike Kuhn, Jay and Sue Canson


February 6, 2014
The Committee received a donation of $1,000 from the Stoystown American Legion Post 257.