The flag site exits because of the vision and dedication of prior Committees with the generosity of the citizens of Somerset County, PA.
The current Committee is committed to the long-term maintenance of the flag site,
which is dedicated to all Somerset County veterans and to the flag pole which is dedicated to the Flight 93 heroes
If successful, our work will never be finished.


Welcome


To the official site of the Somerset County Flag Committee, Inc.
July 31, 2019
The Flag Station will begin work on the flag pole on July 31, weather permitting.
They cannot work in high winds or a thunder storm.
Site Name Announced
July 2, 2019
The Committee anounced the official name for the flag site


America's County Veterans Memorial Flag Plaza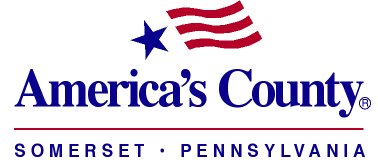 June 2019 THANKS!
Between our May and June meetings our request for funds to fix the pole hardware was met by replies from the following donars:
Somerset Eagles 1801
Mosholder Insurance Agency
Betty Jean Anderson
Mr & Mrs David S. Dickey
Jack E & Judith L. Mosholder
Stephanie A. Lytle
Thomas A. & Brenda S. Walker
Neil R. & Marilyn G. Morton
Barry L. & Linda M. Phillips
John E. & Patricia A. Will
Ken & Rita Halverson
American Legion Post 279
American Legion Post 181
Randy & Barbara Davies
Rotary Club of Somerset
American Legion Post 257
May 2019
Our effort to select a site name continues and we may be close to a decision.

However, we requested an inspection of the pole. The inspection was done by the Flag Station of Altoona. While the pole is in good condition and will last many more years, the internal hardware needs to be replaced. The cost estimate is between $7,500 and $8,500.
We are requesting donations. We need about $3,000 to begin the repairs. Any help will be appreciated.

We will try to fly a small flag for Memorial Day; but, we can not safely fly a large flag until the repairs are completed.

On May 23 Craig Hetrick from the Flag Station made repairs to the cable. We should be able to safely fly our small flag until the major repairs are completed. We raised a new flag on May 24.

Our letter to the editor can be viewed HERE


April 22, 2019
After 24 years the Committee thinks the site deserves on "OFFICIAL" name. The Committee is named in our organization documents; but, not the site. The best we have done in numerous newspaper articles is "the site of the big flag behind the..." We are considering some suggestions and hope to make a decision soon. Today the Daily American published a story about our search for a name.

In addition to our name search, we are looking for new members to help raise and lower our flags and to maintain the site. If you want to help, check our membership page.
Flag Day 2009
Flag Day 1995
June 14, 1995 Flag up and flying as a new landmark




Next Meeting

7:00 PM July 24, 2019
at
Hoss's
Somerset, PA

Phone number:
(814) 444-0637
Click here use of the site for a flag retirement
Directions to the Flag Site



Pennsylvania Turnpike to Somerset Exit 110
Turn right into Quality Inn parking lot
Flag site is behind the Quality Inn

YOU ARE INVITED TO VISIT THE SITE 24/7