The flag site exits because of the vision and dedication of prior Committees with the generosity of the citizens of Somerset County, PA.
The current Committee is committed to the long-term maintenance of the flag site,
which is dedicated to all Somerset County veterans and to the flag pole which is dedicated to the Flight 93 heroes
If successful, our work will never be finished.


Welcome


To the official site of the Somerset County Flag Committee, Inc.
May 15, 2018
President John F. Kennedy declared the first Peace Officers Memorial Day on May 15, 1962, as a tribute to peace officers and in honor of peace officers who, through their courageous deeds, lost their lives or became disabled in the line of duty. This day has been observed in our country annually ever since.
In accordance with Flag Code section 7(m), the United States flag is to be displayed at half-staff for the entire day in honor of Peace Officers Memorial Day, Tuesday, May 15, 2018. By a joint resolution approved October 1, 1962, as amended (76 Stat. 676), and by Public Law 103-322, as amended (36 U.S.C. 136-137), the President has been authorized and requested to designate May 15 of each year as "Peace Officers Memorial Day" and the week in which it falls as "Police Week
MegaShow 2018
Again the Committee provided a flag for display at the MEGASHOW.

This flag is 15 ft by 20 ft supported along the top edge
and is available for other special events,
with approval of the Committee.
During the show, the Committee was contacted by Jim and Ann Thome. They donated a flag larger than to the one pictured above to the Committee. The donated flag is smaller than our 30 ft by 60 ft flag and may be used when our large flags are being repaired. The Committee thanks Jim and Ann for their donation.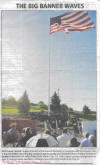 The Somerset Cambria Chapter of the Sons of the American Revolution
with the Forbes Road Chapter of the Daughters of the American Revolution
hosted a Flag Day ceremony June 14 at the flag site.
Flag Day 2009
Flag Day 1995
June 14, 1995 Flag up and flying as a new landmark




Now on Facebook



Next Meeting

7:00PM May 23, 2017
at
Gourmet Buffet
Somerset, PA
(Regularly fourth Wednesday of the month)

Phone number:
(814) 444-0637
Click here use of the site for a flag retirement
Directions to the Flag Site



Pennsylvania Turnpike to Somerset Exit 110
Turn right into Quality Inn parking lot
Flag site is behind the Quality Inn

YOU ARE INVITED TO VISIT THE SITE 24/7