The flag site exits because of the vision and dedication of prior Committees with the generosity of the citizens of Somerset County, PA.
The current Committee is committed to the long-term maintenance of the flag site,
which is dedicated to all Somerset County veterans and to the flag pole which is dedicated to the Flight 93 heroes
If successful, our work will never be finished.


Welcome


To the official site of the Somerset County Flag Committee, Inc.
October 19, 2018
The flag raised October 5th only
flew for about ten days before having
wind damage. The committee lowered
that damaged flag on October 19th and
raised another flag.
October 6, 2018
The Shanksville Boy Scout Troop 151 in conjuction with the National Park Service held a Flag Retirement Ceremony at the site Saturday morning.
October 5, 2018
The Committee lowered the small flag and raised a big flag. We hope to keep this flag up beyond Veteran's Day.
September 13 - 14, 2018
During the afternoon of the 13th we received a call from the Quality Inn telling us that the flag was "snagged" and needed attention. With the help of Brandon Feathers we lowered the large flag. The morning of the 14th we raised the flag donated to the Committee after the MEGASHOW. It will fly for a few days until we can raise another large flag.
| | |
| --- | --- |
| "Snagged" | Temporary Fix |
July 8, 2018
The large flag raised June 27 only lasted until July 6, 2018. Again high winds damaged the fly side of the flag. David Jones and Stew Saylor managed to get the large flag down and the winter flag raised. The Committee raisded a cotton flag on July 8, 2018 and continued to work on site cleanup of the well watered vegitation.
June 21, 2018
The nylon flag raised May 23 was damaged by high winds. The top 9 rows of stripes and the blue field are missing. A winter flag was raised until June 27 when a large polyester flag was raised by the Committee.
May 23, 2018
Our Big Flag was raised May 23 by the Committee with the valuable help of Mike Fromhold, Paul Kelly and Jim Drazenovich.
The winter flag was lowered for repair.
The Committee also completed a multi-day clean up effort. The results are displayed below.
We could use help during the summer months to continue the effort.
Please contact the Committee if you would like to help.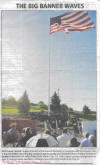 The Somerset Cambria Chapter of the Sons of the American Revolution
with the Forbes Road Chapter of the Daughters of the American Revolution
hosted a Flag Day ceremony June 14 at the flag site.
Flag Day 2009
Flag Day 1995
June 14, 1995 Flag up and flying as a new landmark




Next Meeting

7:00PM October 23, 2018
at
Hoss's
Somerset, PA

Phone number:
(814) 444-0637
Click here use of the site for a flag retirement
Directions to the Flag Site



Pennsylvania Turnpike to Somerset Exit 110
Turn right into Quality Inn parking lot
Flag site is behind the Quality Inn

YOU ARE INVITED TO VISIT THE SITE 24/7